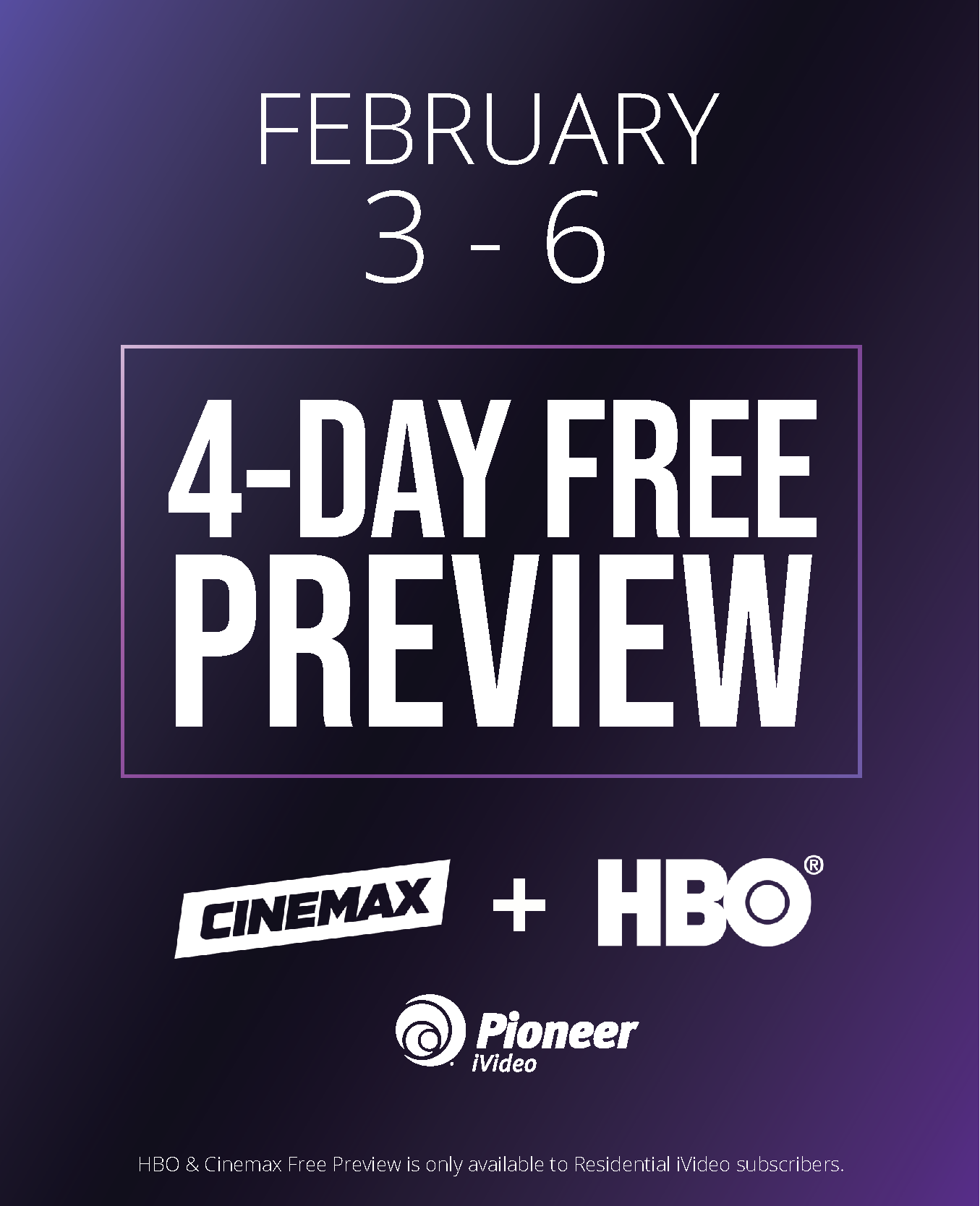 FIND THE BEST CHANNEL PACKAGE
Find your local channels with Pioneer iVideo
Local Channels, including ABC, NBC, CBS, and Fox all in HD when available
Package includes one stream and 50 hours of Cloud DVR storage
Does not include Video on Demand or Restart TV
Does not include Music channels
Over 50 popular HD channels when available with Basic channels included
Includes two streams and 50 hours of Cloud DVR storage
Access to Video on Demand and Restart TV
Does not include Music Channels
Over 100 popular HD channels when available with Basic and Essential channels included
Includes three streams and 100 hours of Cloud DVR storage
Access to Video on Demand and Restart TV
Includes 50 Music Channels
Over 140 popular HD channels when available with Basic, Essential, and Complete channels included
Includes all 42 premium channels from STARZ, Cinemax, Showtime, and The Movie Channel
Includes three streams and 100 hours of Cloud DVR storage
Access to Video on Demand, Restart TV, and Music channels
Channel Lineup
---
| | Channel | Basic | Essential | Complete | Ultimate | Cinemax | Starz | Showtime | HBO |
| --- | --- | --- | --- | --- | --- | --- | --- | --- | --- |
Pioneer iVideo™ Supported Devices
Available on your favorite devices
Download the Pioneer iVideo App today!
Not available on Roku devices.
Smart TV
Download the app directly to a compatible Smart TV!
Mobile & Tablet
Watch from anywhere in your home!
Computer
Watch iVideo from your web browser!
Streaming Devices
Purchase or Lease a streaming device!
Streaming Stick
Recommended Device
Amazon Fire TV (Fire OS5+) Amazon Fire TV 4K Max Amazon Fire TV Stick 4K
iPhone (iOS 14+ Android Phone (11+)
iPad (iOS 14 - iPadOS 14+) Android Tablet (Android 11+)
Android TV (OS8+) - Sony, Sharp, Philips, and Hisense Amazon Fire TV Edition (OS 5+) - Element, Insignia, and Toshiba
Safari (13+) Chrome (89+) Firefox (87+) Edge (89+)
Amazon Fire TV (Fire OS 5+) Fire TV Cube (Gen 1, Gen 2) Apple (tvOS 14+) Apple TV and Apple TV 4K Android (OS 8+) nVida Shield TV and nVidia Shield TV Pro
It's all HD
Watch your favorites in HD. Auto detection gives you the best TV view available.
Personalized
It learns what you love and keeps those series and movies front and center.
Replay TV
Never miss a show. Watch up to the past 72 hours of shows across most of our channel lineups.*
Cloud DVR
No more bulky boxes or wires. Access your recordings on virtually any device.*
More ways to view
Works with your favorite streaming devices: Amazon Fire, Apple TV and more!
More Responsive
Experience instant channel changes and guide-scrolling.
Live and Local
Enjoy your favorite local channels and live HD feeds.
Simpler Surfing
Choose from a traditional guide or a curated tile-view
TVonMySide.com is your source for up-to-date information and solutions about TV network disputes. This website is a collaborative effort of hundreds of local, independent digital TV providers located throughout the country. By uniting our companies, we can work together to achieve more flexibility and better offerings for you at the lowest price possible.